Children's Day in Mexico 2023: Selling Toys and Games Online
We are just a few weeks away from Children's Day in Mexico, a festivity that promises a huge volume of sales and opportunities for cross-border eCommerce. There are 39.2 million children and teenagers from 0 to 17 years of age residing in Mexico, representing 32.8% of the population. If you're a retailer that sells toys and games, you should consider participating in this special shopping event to boost your sales.
When is Children's Day in Mexico?
Mexican Children's Day (Día de la Niñez) is a highly profitable day for Latin American eCommerce, which takes place on April 30th. Children's Day is celebrated in Mexico by giving gifts to children, and this tradition continues even as children grow older. Marketplaces like Mercado Libre, Amazon Mexico, and Walmart Mexico have already started to offer discounts and promotions since the start of April, but sales typically extend until the first few days of May.
Mexican Children's Day eCommerce Sales
In the 2022 edition, sales were estimated to reach over 25,000 million Mexican pesos, which is equivalent to 1.5 billion USD, according to the President of the Chamber of Commerce and Tourism. This was more than double the estimated amount for 2021, which was 12,000 million pesos. A final sales estimation for this year has not been made yet, but we anticipate an even better result.
According to the Mexican Association of Online Sales (AMVO), more than 42% of Mexican consumers are considering online purchases for Children's Day. Their findings reveal that 8 out of 10 people will buy through eCommerce platforms or marketplaces. Over 92% of consumers plan to buy toys and games, such as action figures, dolls, board games, consoles, and collectibles. Additionally, 38% of consumers plan to buy clothes, 13% plan to buy accessories, and 10% are considering purchasing books.
Last year, one category that made an impressive volume of sales was arts and crafts, fueled by the growing desire to make handcrafted toys and create DIY projects at home. This trend towards DIY and crafting has only increased since the pandemic, as children have spent more time at home and developed new hobbies.
In addition, didactic and learning toys have also been gaining more relevance year after year, as they promote problem-solving skills, creativity, and imagination in children. Since parents are the ones who typically buy presents for their children, they are increasingly interested in educational toys that offer more than just entertainment value.
Marketplaces Children's Day campaigns
Mercado Libre

The largest marketplace in Latin America, Mercado Libre, is offering discounts of up to 35% in the toys and games categories, along with free shipping, to attract millions of consumers to their platform in the month of April.
According to Mercado Libre, sales of toys and games on their platform have increased impressively by 509% in terms of units sold in just three years (2018-2020).
Amazon Mexico

As one of the fastest-growing Amazon marketplaces in the world, Amazon Mexico also expects a high volume of sales for Children's Day. The most popular categories range from action figures, construction toys, dolls, cosplays, board games, outdoor games and sports, arts and crafts, plush toys, cars, puzzles, collectibles, and baby clothing.
Walmart Mexico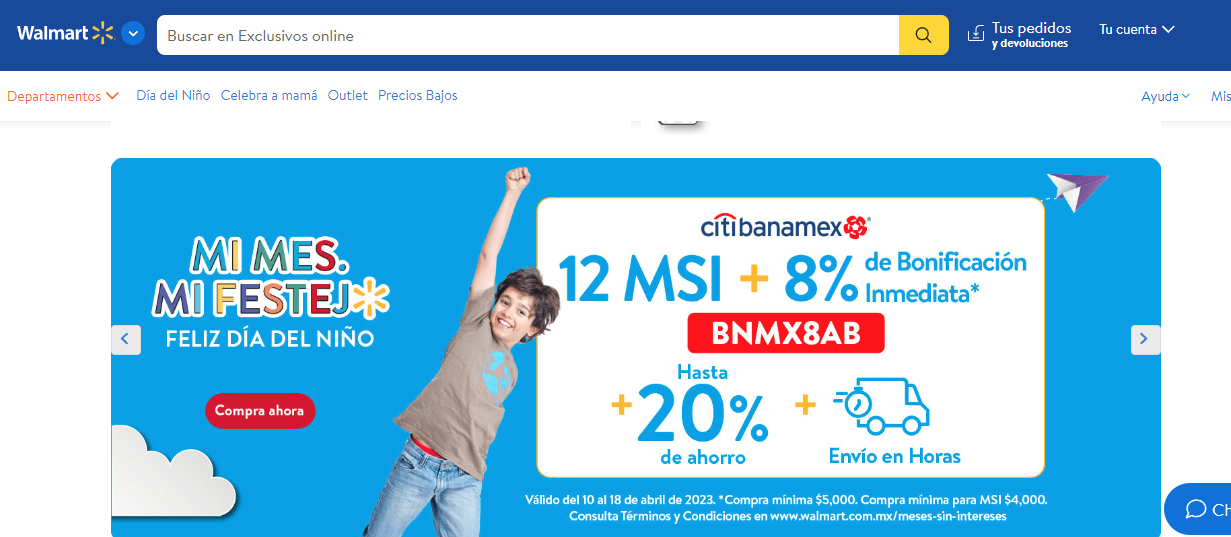 Walmart Mexico is also participating and has been offering attractive discounts since the beginning of April. For 2023, they are expecting a 52% increase in toy and game sales.
Toys that can't be imported into Mexico
Cross-border retailers should be aware that there are certain toys that they cannot sell in Mexico because they cannot be imported. Since October 2020, Mexico has restricted the import of human-shaped dolls for kids. To sell dolls for kids in Mexico, you will need to request a sanitary card that guarantees the toy is not toxic for children. The sanitary card certifies that the doll complies with the Mexican Official Standards (NOM -015-SCFI-2007) and has passed rigorous testing to ensure that it is safe for children to play with.
Sellers who dismiss this and try to sell dolls will mostly have their products returned back to their origin. To avoid this, we suggest that retailers sell toys that can be classified as action figures or collectibles, emphasizing that they are intended for teenagers and adults rather than children.
Expand your toys and games eCommerce to Mexico!
Did you know that ANY brand or retailer from the US can participate in Mexico's Children's Day? With nocnoc, you can start selling your products in Mexico in a matter of hours and become a top seller.
By registering to nocnoc's Seller Center and uploading your ASINs, your products will be immediately published in over 15 different marketplaces in Latin America, including Mercado Libre, Amazon Mexico, and Walmart Mexico!
We will give your products the maximum exposure possible with our effective marketing and pricing campaigns. We are committed to helping sellers succeed in the Latin American market and boost sales during special events.
We offer an end-to-end solution. From publishing your products to optimizing your listings, providing translations, offering customer support, launching effective marketing campaigns, handling customs and last-mile deliveries, and managing cancellations and returns, we've got you covered.
You can start right away, without any upfront costs.
Sign up for free and sell your toys and games during Mexico's Children's Day!
SUBSCRIBE TO OUR NEWSLETTER
Gain access to the latest news and insights on e-commerce in Latin America.